1.
Goodbye Dragon Inn
(Tsai Ming-liang, Taiwan)
Goodbye Dragon Inn represents 2003's most distinctive example of a filmmaker recreating the language of the medium in the image of his or her subject matter. In this case, Tsai manipulates film time (the long take) and film space (the long shot) for the purpose of communicating the loneliness of a group of movie house patrons and employees on the day of a theatre's closing. Though Tsai's film succeeds in maintaining a comic tone throughout much of the work -- be it somebody chewing too loudly in the theatre, or standing in the urinal immediately beside the only other person in the bathroom -- there is a deep and undeniable undercurrent of unhappiness that embues the work. Finally, people are alone, with little hope for remedy: in Goodbye Dragon Inn, characters hoping for a meaningful romantic connection constantly miss one another. One of the most beautiful examples, for instance, is the burning cigarette that the crippled theatre employee finds on missing her coworker again. A second is the film's first lines of dialogue, occurring nearly one hour into the work: a young man approaches another for a tryst, only to discover, ironically, that the other gentleman does not even speak the same language. Moreover, its location is not incidental to its theme: that the narrative occurs in an old movie palace awaiting closure broadens the film into a critique of the current inadequacy of film culture -- few remain in the seats for King Hu's 1966 classic, Dragon Inn. And at the same time, the space becomes the perfect platform for Tsai's thought: here is a place where people find themselves in close proximity, even as they fail to interact with one another.
2.
Mystic River
(Clint Eastwood, United States)
Like Unforgiven (1992) more than a decade earlier, Mystic River functions as a career-summarizing masterwork, coalescing the director's principle preoccupations into a single, classically-composed narrative. The film opens with three young boys carving their names into fresh concrete. Before one of them has finished, two police officers catch the young vandals in the act. The pair haul away the young man and proceeded to sexual molest him. Flash ahead to their adulthood, where the victimized child is now a mentally and emotionally crippled adult (played brilliantly by Tim Robbins). The incomplete vandalism thus becomes a metaphor for this child robbed of his youthful innocence -- a major theme in many of Eastwood's best, including his 1993 masterpiece, A Perfect World. Sean Penn also stars as the second grown child, now a small-time crime boss. As the story moves forward, his teenage daughter is raped and brutally murdered. Enter Kevin Bacon, the third of the three young men, who has since become a Boston police officer. As the investigation progresses slowly, Penn, unwilling to wait for justice to be meted, sets off to avenge his daughter's death. This provides the moral of Mystic River, the unintended consequences of vigilantism, which also confers upon the film its self-consciousness: provided that Eastwood is famous for his 'Man with No Name' and 'Dirty Harry' personas, it would seem that he is now asking what if any role his creations play in the proliferation of violence in American society. The somewhat contentious final scene indicates his complicity. Mystic River thus joins the very best of Hollywood past in enjoining a taut classical narrative and a procedural self-consciousness.
3.
The Story of Marie and Julien
(Jacques Rivette, France/Italy)
From the nouvelle vague's least-known master, Jacques Rivette, The Story of Marie and Julien rates with any of the director's previous work in the complexity with which it dissects film form via a classical narrative structure. In fact, The Story of Marie and Julien excels his masterpiece Celine and Julie Go Boating (1974) to the extent that it goes further in its distillation of the filmmaking process into the form of its narrative: Rivette invisibly divides his work into passages that depict analogies for writing (pre-production), shooting (production), and editing (post-production) while maintaining an ostensibly classical romance. For the first of these, Rivette structures the narrative such that the flow of the story seems to depend either on the character's inner feelings and dreams or in the protagonists' active narrating within the space of the story. That is, the characters create the story. This is followed by the rigid recitation of lines and gestural repetitions -- even impossible ones such as one character's suicide, repeated again and again -- that comprise the production section of this work. However, when Marie particularly (played by the exquisitely beautiful Emmanuelle Beart) voices her dissatisfaction at what the narrative demands of her, a third section, post-production, commences. Here, however, the characters in the film no longer possess agency. As Marie says in this section, "only one person can free me" -- this person, one suspects, is none other than Rivette, forever interested in the process of filmmaking. In this case, only he can save her from the strictures of the narrative as it has been conceived, spooled, and re-spooled. Likewise, this final section also implies the end of the film shoot, a moment that no one can recapture once its over. In this way, The Story of Marie and Julien reads as the highly personal film of an auteur interested above all else in the process of narrative.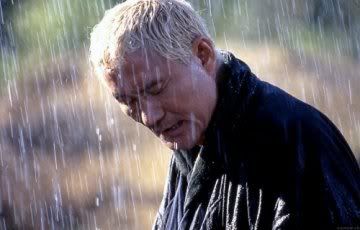 4.
Zatôichi
(Takeshi Kitano, Japan)
Belonging to the same category as Eastwood's Mystic River (also 2003), Zatoichi likewise situates itself as a career-summarizing masterwork. First, there is the director's own inimitable modernist nihilism (modernist to the extent that he continues to ask the questions for which there exist no transcendent solutions) manifesting itself in intense passages of violence, followed by even longer longer breaks from these periods of aggression. In these interstices, Kitano has continually suggested that play and humor are supremely necessary in engaging the world as it is, violent and brutish; he again brings this idiosyncratic world view to his 'blind swordsmen' installment. Yet, this basic philosophy is not all that he brings to Zatoichi: as with his undervalued Dolls (2002), memory is again a principle theme; as with Kikujiro (1999), pedophilia is a leitmotif; and formally, as with all of his films since Boiling Point (1990), Kitano elides key dramatic moments, propelling his narrative directly from cause to effect. Then there is the self-consciousness with which the actor-director (he also plays Zatoichi, the blind swordsman) deals with the subject of rhythm -- making a symphony out of the field laborers, for example -- and more broadly with his vocation as a filmmaker, which he immortalizes in a final paean to both the film's clearest source, Akira Kurosawa's The Seven Samurai (1954) and also to Federico Fellini's 8 1/2 (1963).
5.
Crimson Gold
(Jafar Panahi, Iran)
Scripted by the incomparable Abbas Kiarostami, former assistant director Jafar Panahi's fourth feature provides further confirmation, as if any were still necessary, that he is one of the most accomplished new film artists to have emerged anywhere in the previous decade. Part Bresson, part Chaplin, part Renoir, but somehow still all Panahi, Crimson Gold charts the trajectory that leads the pizza delivery guy and petty thief protagonist Hussein (real-life pizza delivery man Hossain Emadeddin in a flawless performance) to commit suicide. The director depicts this gesture at the film's beginning, structuring his film circularly to de-emphasize the suspense inherent in the plot, while calling attention to his character's psychological motivations and the broader social causes for his violence (and the precipitating criminal activity). Indeed, it is to society that Panahi ascribes guilt, charting the protagonist as he moves from his stark, Pickpocket (Bresson, 1959) - inspired apartment to a large penthouse overlooking nocturnal Tehran, where Hussein inexplicably dives into the pool of the exceptionally wealthy tenants (perhaps a nod to Renoir's Boudu Saved From Drowning, 1932, though certainly also Chaplinesque). The Renoir influence also manifests itself stylistically in a circular pan through the courtyard of Hussein's apartment complex (The Crime of M. Lange, 1935), while the formal influence of his other French source, the more central Bresson, finds its mark in the film's precise modeling of off-camera space via a careful rendering of sound -- which ultimately leads one back to the most important of all Panahi's sources, his master Kiarostami.
6.
Café Lumière
(Hou Hsiao-hsien, Japan/Taiwan)
Having long disputed any direct link between his work and that of Yasujiro Ozu, in 2003, Taiwanese director Hou Hsiao-hsien released Cafe Lumiere on the occasion of the Japanese master's centenary. Though technically dedicated to Ozu, the film offers little insight into Hou's debt to the Japanese director (with the exception of a few static set-ups which were already present in the director's craft). What it does represent is yet another instance of the director selecting a single motif around which he structures his narrative. In this case, the key would seem to be present in the film's alternate English title: "Coffee Time." Specifically, the film's temporal structure -- that is, its languidness -- is modeled after the time one spends sitting in a cafe, sipping a cup of java. This is a movie of the breaks preceding the resumption of action. In terms of characterization, these are likewise persons caught in the flux preceding the formation of their own families and success in their careers. The female lead is pregnant but uninterested in marrying the father of her child. Of course, soon enough she will have her child and no longer will her life consist of waiting for something else; this moment, in other words, is inherently evanescent. Likewise her male counterpart records the sounds of passing trains with no clear sense of what he wants to do with the results -- he is an artist of sorts, with no sense of his purpose. It should be said that the trains themselves also mark a temporal passage (extended to level of structuring motif in Goodbye South, Goodbye [1996]), which in the end is the key theme of Hou's corpus.
7.
A Talking Picture
(Manoel de Oliveira, Portugal/France/Italy)
Leave it to the 94 year-old Oliveira to make a film that truly cuts against the grain of the political climate current in elite, European cultural circles. Long interested in charting the end of Europe (Abraham's Valley, 1993), and especially the aristocracy to which the director was born, Oliveira, in A Talking Picture, turns his interest to an external threat: radical Islam. The breathtaking Leonor Silveira plays a history professor who takes her young daughter on a voyage that simulates the backward progression of Western civilization from her home Portugal through France, Athens, Egypt, and finally to the Red Sea at civilization's cradle. Here, while on a cruise ship, she is invited -- quite literally -- to take her seat at the captain's table, where four very erudite Europeans and North Americans (played by such well-known international actors as John Malkovitch and Catherine Deneuve) converse with each other, each in their own separate language. Implicit in this conversation, to be sure, is a polyglot solution for European Union-era cultural divisions: Europe will be a multi-cultural/lingual defender of the riches of the West. Then, suddenly, this dream is shattered in a moment of enormous gravity that declares with no uncertainty that Islamic fundamentalism poses a substantial threat to the future of the continent. In a moment of ubiquitous political correctness among the cultured elite, A Talking Picture proves once again that Oliveira remains the most adventurous of European filmmakers, even as he approaches his ninety-fifth year.
8.
Doppelgänger
(Kiyoshi Kurosawa, Japan)
Building upon the example of his last feature, 2002's Bright Feature, the "other Kurosawa" creates in Doppleganger a model for the new Japanese man. Deconstructing prevailing notions of Japanese masculinity, namely the self-sacrificing company man, Kiyoshi Kurosawa -- a student of the great Japanese film academic Shigehiko Hasumi -- offers a carnality and spirit of rebellion contrary to more traditional understandings of Japanese masculinity. This ideological strategy is subsumed by a classical narrative structure, however, that commences as a horror film. Thereafter, Doppleganger shifts genre gears on more than one occasion, mixing crime thriller, road movie, comedy, and science fiction before finally settling on romantic melodrama. Whatever it is, Doppleganger rates as one of 2003's most purely entertaining works, and lends further support to the notion that the much of the best Japanese cinema of the moment owes little to its golden age predecessors, Kenji Mizoguchi, Yasujiro Ozu, and the more well-known (but not necessarily greater) Akira Kurosawa. If Kiyoshi Kurosawa can be said to belong to a tradition of Japanese cinema, it would be the B-movie iconoclasm of Seijun Suzuki (one source that the younger Kurosawa has acknowledged): in other words, Kiyoshi Kurosawa is a pulp artist with the emphasis on the latter.
9.
Ana and the Others
(Celina Murga, Argentina)
As Kent Jones adroitly put it, Ana and the Others is the "Comedies and Proverbs entry that Eric Rohmer never got around to making." Surely one of the most profoundly Rohmerian films ever made, female director Celina Murga's first film, Ana and the Others, is a film of interstices. Though possessing a dramatic arc -- Ana has set off in search of an old boyfriend in a small, provincial Argentine town -- in reality Murga's film is concerned less with what happens in the end than it is with the in-between moments that combine to fill Ana's days. Indeed these times (driving a car, eating with friends, playing with kids, etc.) are no less than the stuff that define life. Put another way, Ana and the Others, by virtue of its narrative form, suggests that life is about the journey, not the destination. This is the justification for the film's open ended denouement, as well as for the mystery that the director endeavors to preserve with reference to Ana's psychology. In this latter respect, Murga shows a debt to Eric Rohmer beyond their more obvious stylistic affinities. Similarly, Murga's film achieves the same degree of emotional pathos seen in the best of the French master's work. In other words, Ana and the Others is a very easy film to love.
10.
Come and Go
(João César Monteiro, Portugal/France)
Premiering at Cannes a matter of months after Portuguese maestro João César Monteiro lost his long battle to cancer,
Come and Go
showcases and predicts the actor-director's illness and ultimate death within a particularly static and indeed Portuguese form of high twentieth-century modernism that the film likewise presents in its late stages. Once a filmmaker working under the conspicuous influence of fellow countryman Oliveira and the latter's theatrical brand of modernism, as for example in Monteiro's wonderful, early
Silvestre
(1981),
Come and Go
marks the later mature idiom that the director had been developing since at least his masterpiece
Recollections of the Yellow House
(1989), with which
Come and Go
shares a decidedly scatological bent. Indeed, even more than Oliveira, Monteiro's modernism belongs to a venerable tradition of heresy that with every feature of the director's work, feels as if it might be nearing extinction at the inception of the twenty-first century.